Duvet - customized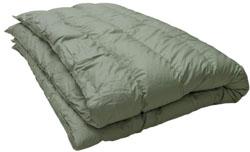 Sleep luxuriously, at home and on holiday
Sleeping under a duvet is something that campers do not often think about.
With a duvet of, for example, 2.4 x 2.4 meters, you can enjoy a wonderful sleep together, without the limitations of zippers.
Of course you can also use the duvet at home.
Create the ideal duvet by adjusting the filling to everyone's wishes.
A duvet is usually made of cotton.
Available in two down qualities: 90% and 100% goose down.
If desired, we make laces on the corners of the duvet to attach it to the cover.
In addition to the duvet, Tatteljee can also supply custom duvet covers. For textiles for the covers you can go to Capsicum in Amsterdam. This company supplies, among other things, batik, which is very suitable for making duvet covers.
Slapen onder een dekbed is iets waar kampeerders niet snel aan denken.
Met een dekbed van bijvoorbeeld 2,4 x 2,4 meter lig je samen prinsheerlijk, zonder de beperking van ritsen.
Uiteraard kunt u het dekbed ook thuis gebruiken.
Creeër het ideale dekbed door de vulling aan ieders wensen aan te passen.
Een dekbed wordt meestal gemaakt van katoen.
Leverbaar in twee donskwaliteiten: 90% en 100% ganzendons.
Desgewenst maken wij veters op de hoeken van het dekbed, om het aan het overtrek vast te kunnen maken.
Naast het dekbed kan Tatteljee ook dekbedhoezen op maat leveren. Voor textiel voor de hoezen kunt u terecht bij Capsicum in Amsterdam. Dit bedrijft levert onder meer batik, dat zeer geschikt is om dekbedhoezen van te maken.
Duvet - specifications and prices