Zip-in sheet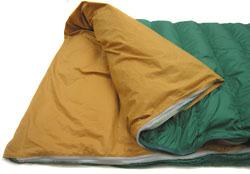 For the love of your sleeping bag.
A zip-in sheet is a sheet bag that is zipped onto the inside of the sleeping bag and has a flap with Velcro on the outside. This way the sheet bag cannot shift and you do not get tangled.
A zip-in sheet extends the life of a sleeping bag: it provides protection against dirt, moisture and wear. Wash at 30 degrees C.
We make zip-in sheets in all sizes, including multi-person.
Would you prefer a 'loose' sheet bag? No problem.
Material options:
Cotton          100 gr/m2     navy blue
Eco cotton     65 gr/m2      white
Wool             230 gr/m2     purple, beige and green/blue
Silk                  17 gr/m2     various colours
Zip-in sheet - specifications and prices